In 2020, Saint Kentigern Boys' School began construction of a new Specialist Facility, shared by both the Girls' School and Boys' School, in the residential suburb of Remuera near Auckland.
This new building is designed to offer superb teaching and learning spaces across multiple floors for a variety of specialist subjects – from Drama and Design to Food Technology and Science – along with breakout and presentation areas away from the classrooms.
The goal of the new Specialist Facility, which is opening in 2022, is to create an optimal learning and teaching environment through thoughtful design. Architectus, the architects on the project, and interior designers Outline Design collaborated on the finishes including the timber work, selection of furniture and the fittings, and Aspec Construction was engaged as the builder.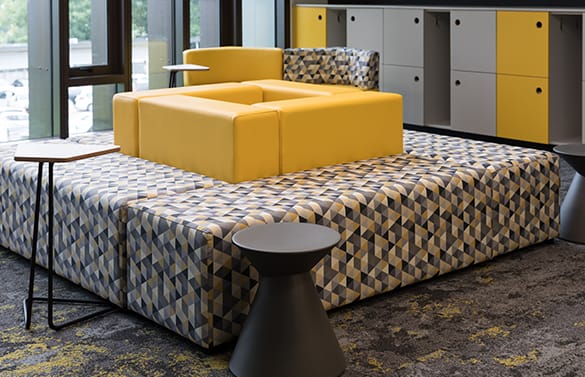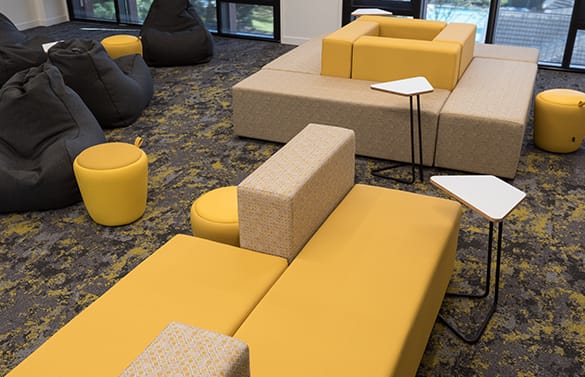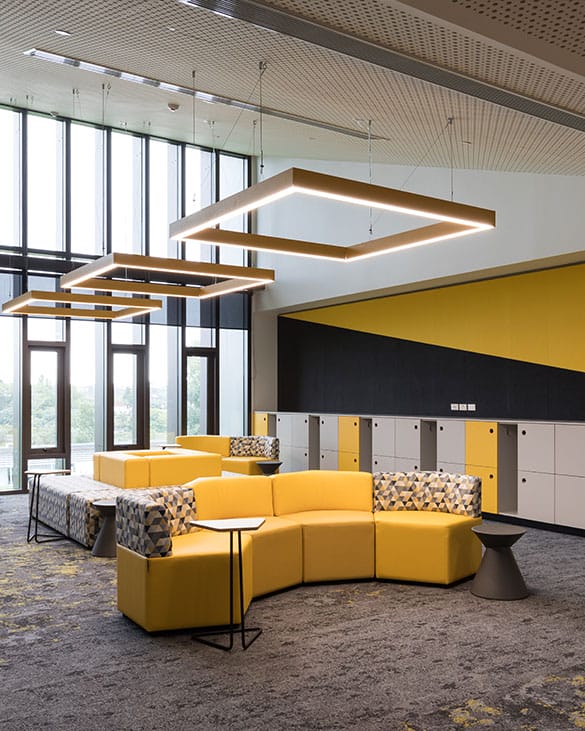 Colour theory is used throughout the spaces with purposefully placing colours in areas to invoke different feelings and states.
Utilising the School's house colours as their palette, the designers employed colour theory throughout the interior, purposefully placing colours in specific areas to invoke different feelings and states. Red is used on the ground floor for Food Technology, Design and Drama to invoke creativity and excitement. Green is the colour of choice on the first floor for Hard Materials, Soft Materials and three Science labs, drawing inspiration from nature, balance and growth. Yellow creates an artistic and positive vibe that is perfect for the top floor in the Design room, three Art rooms and three Music classrooms.
Even the choice of flooring contributes to an atmosphere conducive to learning and teaching. The carpet tile features a biophilic-inspired design, resembling the growth patterns of lichen. This pattern not only represents the ebb and flow of the students' journey through school, but it is also used to connect and differentiate different learning and gathering spaces.
Seating that supports learning
The new Specialist Facility is designed to be a comfortable learning environment with choice and flexibility. Drawing on their knowledge of learning environments and how seating plays a crucial role in the students' focus, creativity and collaboration, Buro Seating supplied a selection of seating to support optimal learning from their extensive range of quality, ergonomic solutions.
A variety of seat heights have been used to support different learning and teaching styles. Some students learn better when sitting, some when standing, and some as leaners on barstools. The Konfurb Fly Barstool is designed with a polypropylene shell to provide maximum comfort and flexibility while also taking into consideration strength and durability requirements. The Buro Image, upholstered in Warwick Keylargo Slate, offers a modern office chair with multiple applications to suit different working preferences.
Casual breakout spaces require adaptable seating options that enhance collaboration. The
Konfurb Block Family
offers flexibility, as the individual blocks can be rearranged in a number of different ways to change the layout of the space. The Konfurb Star Series includes various ottomans, mid-backs and high-backs that can be configured to promote communication and learning. The stackable, all-purpose Buro Maxim chair provides a light-weight and easily movable seating option.
For this project, custom fabrics were used on the Konfurb Block and Konfurb Star seating to complement the interior's carefully organised colour palette. Durable fabrics were selected to ensure each seating solution could withstand the daily wear and tear of a learning environment.
Recognising that ergonomic seating drives wellbeing and academic performance, the new Specialist Facility at Saint Kentigern Boys' School is a testament to how thoughtful design can result in a space that is inspiring, engaging and welcoming for all.
Image credit: Mark Scowen Photography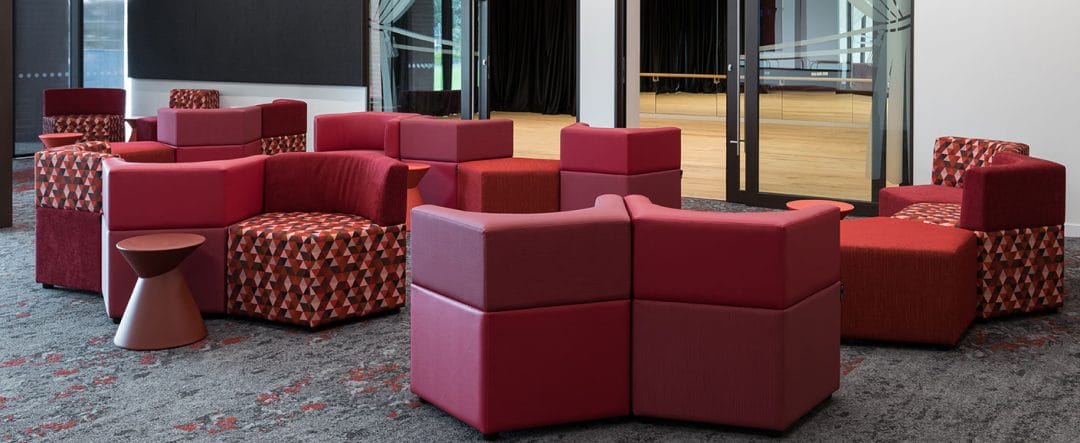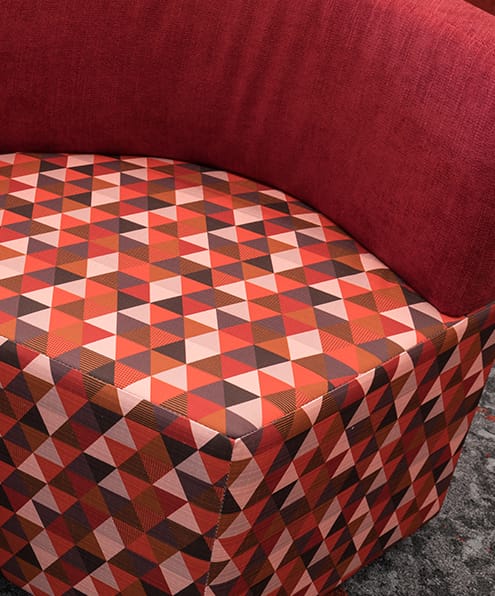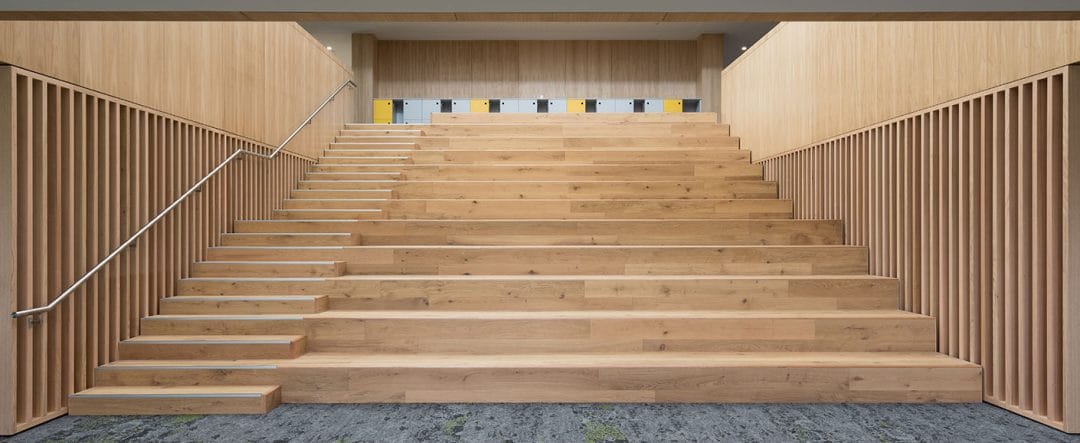 Custom Upholstery
Konfurb Block Double Seat:
Warwick Halliwell Daffodil
Textilia Manila Bask
Textilia Wortley Crypton Facet Yellow Quartz
Konfurb Block Single Low Back:
Warwick Lustrell Charisma Lemon
Warwick Halliwell Daffodil
Textilia Manila Bask
Konfurb Star Ottoman:
Warwick Crypton Fendor Chili
Konfurb Star A Series:
Textilia Wortley Group Crypton Silex Crimson / Textilia Wortley Group Crypton Facet Garnet
Textilia Wortley Group Crypton Facet Garnet / Textilia Wortley Group Crypton Silex Crimson
Warwick Lustrell Charisma Lemon / Textilia Wortley Crypton Facet Yellow Quartz
Textilia Manila Bask / Warwick Lustrell Charisma Lemon
Konfurb Star B Series:
Textilia Manila Mulled / Warwick Lustrell Charisma Poppy
Warwick Lustrell Charisma Poppy / Textilia Manila Mulled