We're leading wholesalers
of ergonomic seating
Across Australasia, more people sit on Buro chairs than any other brand. Just quietly, we think that's pretty great, but it's not all we're about. We want people to work well and live better. We are dedicated to enhancing people's lives, by helping them create workspaces that optimise their health and wellbeing. We strive to achieve this by providing the absolute best and fit-for-purpose furniture that not only improves vitality but also productivity.
Through smart ergonomics and internationally-awarded, human-centred design, we provide people with access to beautiful seating built for almost every purpose, every space and everybody you could imagine.
As a commercial furniture specialist
We know that both form and function contribute to excellent design and a great user experience. That's why we've committed to stringent design and manufacturing standards that create seating to support people's changing needs.
As folks spend more time sitting, working from home or in shared spaces we've ensured our chairs and office furniture is resilient, adaptable and customisable. Certified to international standards of sustainability, safety and ergonomic quality, so you can rest assured you've ticked all the boxes when purchasing Buro workspace furniture.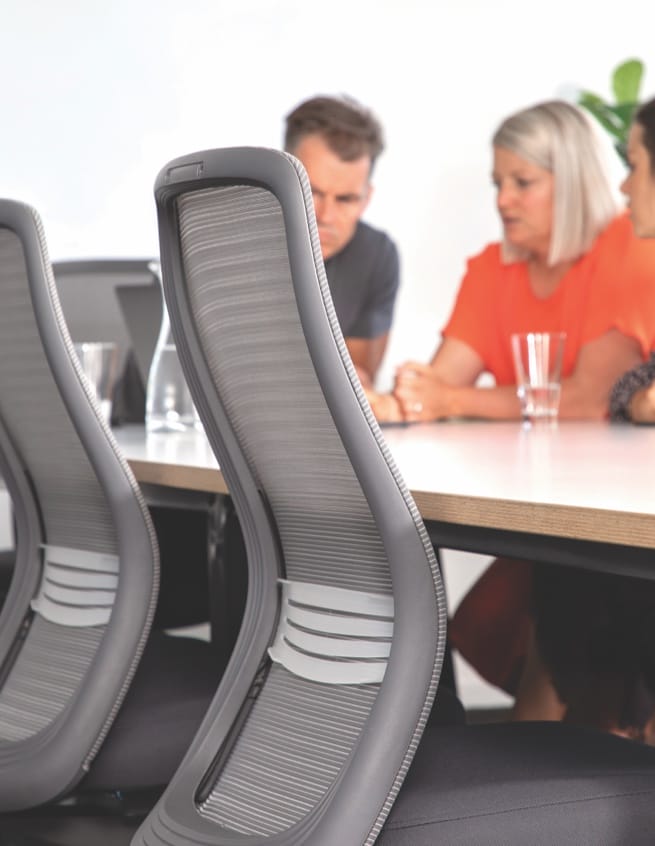 Health and Wellbeing
Endorsed by health professionals, our ergonomic desk chairs encourage optimal posture, movement and comfort for long term wellbeing and productivity.
Innovation
World class design, materials and smart technology create workspace furniture solutions for a changing world.
Style
Quality furniture that looks as good as it feels with customised options and expert knowledge to create a unique look for any space.
Certifications and Standards
Specs matter and we've got them covered. Relax knowing your furniture is strong, safe, sustainable and meets the highest international standards.
As the world has changed so have we. From humble beginnings in 1994 to one of Australasia's leading commercial seating specialists. Here are some highlights from the Buro Seating journey.
Tim Howard, General Manager doing the heavy lifting. 
1994
Buro Seating was founded
Buro was founded on 1 August 1994 by David Boyd, with a small team of two. David was based in Auckland and Chris Berry in Christchurch.
1995
Buro Persona launched
Our first product range featured a version of the Buro Persona, the Buro Persona Mk2 and MK3 are top selling chairs in the Buro range today. On occasions we see the original Buro Persona returned to Buro for reupholstery and then back to work some 20+ years later!
2002
Commitment to our 10 year guarantee
We commit to quality and durability, with a 10 year guarantee on our products.
2009
Brisbane office opened
Buro expands to have offices in Christchurch, Auckland and Brisbane.
2010
First Konfurb product launch
We launch our first Konfurb products, including the Konfurb Searl which is still a part of the Konfurb range today.
2015
First health and aged care product launch
Our health and aged care products were developed in direct response to the needs of aged care and medical industries where functional, durable design is key to delivering quality everyday care.
2015
Konfurb Fly series wins the Best of the Best Red Dot Award
The Konfurb Fly Sled chair, designed by Claudio Bellini was driven by the consideration that a chair needs to mirror the human body. The shape is designed to simultaneously provide comfort and flexibility, while remaining durable and strong.
2016
First education product launch
Our education products were developed to enhance learning environments, helping both students and teachers through great furniture design.
2017
First (actually second) Mondo product launch
Mondo products were developed to make ergonomic desk chairs accessible for a great price point. It actually existed as a brand for a short appearance in 2004, before it made its comeback in 2017.
2018
We implement sustainable improvements
We removed the chrome on the Buro Lindis chairs and replaced it with reflective silver powdercoat frames.
2018
We refresh our brand
We change our appearance to better reflect our values of health and wellbeing demonstrating our commitment to seating being about people and performance, not just chairs.
2019
Konfurb Harmony and Konfurb Duoblock win international iF Design Awards
Designed by Martin Ballendat, German-born internationally recognised Industrial Designer. The Konfurb Duoblock chair was awarded a Red Dot Award – Best of the Best in 2018, followed by an IF Design Award in 2019 along with the Konfurb Harmony.
2019
Launched Buro Dynamic Intelligence™
Our Buro Dynamic Intelligence™ technology is an example of seating innovation designed for today's world, improving circulation, mobility and concentration. Dynamic Intelligence™ features in our Buro Mentor chairs.
2020
We partner with the Australian Physiotherapy Association
As more people began working from home we wanted to deepen our commitment to ergonomic excellence. Buro partnered with the Australian Physiotherapy Association to ensure our chairs meet the highest standards of postural support.
2021
Established goal of funding planting over 500 trees by 2022
Buro Seating is working with Trees that Count to mitigate our CO2 footprint and help protect New Zealand's threatened biodiversity.
2021
Launched our first 100% recycled chair
We launch the Konfurb Sense in Australia and winner of another iF Design award.
2022
We improve our Product Stewardship Programme
We improve our Product Stewardship Programme demonstrating our commitment to responsible life cycle management and the core principles of product stewardship and extended producer responsibility. In conjunction with our manufacturing partners and resellers, we will take back all Buro supplied seating products and recycle them.