In recent years, the growing number of people working from home has raised concerns about employee health and the impact of poor sitting habits.
Related research highlights the importance of work-from-home ergonomics that promote good posture while sitting. In this blog post, we share advice from Ergonomist Andrew Wilson on building your home office and cover how poor sitting posture can lead to various work-related injuries. We also outline how to promote good WFH ergonomics for yourself or your employees, covering factors like the importance of ergonomic office chairs for home use, a good desk setup, and taking regular activity breaks.
How Does Work-from-Home Impact Sitting Habits and Employee Health?
With the increasing number of people working from home, there has been a surge in work-related injuries related to poor sitting posture. These broadly fall into two categories:
Low back and mid back pain: resulting from sitting on poor quality chairs without a sufficient seat or backrest, comfort, or support.
Neck, shoulder, and arm pain: resulting from long periods at laptops, often in poor quality environments, without access to document holders.
A recent study by Katie Butt, PhD, presented at the American College of Sports Medicine, gave some insight into this. She studied 45 sedentary workers and found that when they worked from home, they sat for an average of 1 hour longer (553 mins/490 mins). The study also found that working from home was associated with poor hip sitting angles which she described 'as a precursor for low back pain'.
How to Promote Good WFH Ergonomics
These results highlight the importance of a good ergonomic environment that promotes good sitting habits when working from home. An ergonomic work-from-home setup should include the following:
High-quality, fully adjustable, ergonomically designed chair.
A comfortable and supportive ergonomic home office chair is essential for preventing back pain, shoulder strain, and other related health issues arising from sitting for extended periods. A good chair should have adjustable seat height, backrest, and armrests. Ergonomic chairs provide proper support and alignment to the body's natural curves, promoting good posture and reducing discomfort during extended sitting.
A high-quality, ergonomically designed chair will pay off in the long run by improving your comfort and productivity while working.
Proper desk or an appropriate height for your work area.
A proper work surface is just as important as a comfortable chair. Ideally, your desk or work area should be at a height that allows you to sit with your feet flat on the floor and your arms comfortably resting on the desk.
This setup will help reduce strain on your neck, shoulders, and back, promoting good posture. If your desk is not the right height, you can use an adjustable chair or a desk riser to raise or lower the work surface to the appropriate level.
Appropriate accessories, including a monitor riser, external keyboard and mouse, copyholder, etc.
In addition to a good chair and desk setup, several accessories can help improve your comfort and productivity while working. For example, a full-size screen, such as a desktop monitor, allows for comfortable positioning of the screen, which can help reduce eye strain and neck pain caused by an incorrect height or distance from the face.
A laptop riser is also worth considering, as it lets you bring your laptop screen to eye level, positioning it at an appropriate height.
An external keyboard and mouse are also worth investing in to reduce strain on your wrists and hands. For those dealing with physical documents, whether using them for reference or digitising the data, a copyholder is a beneficial investment to help reduce strain and discomfort caused by awkward head and neck posture while typing. Other accessories worth considering include footrests, lumbar supports, and wrist rests.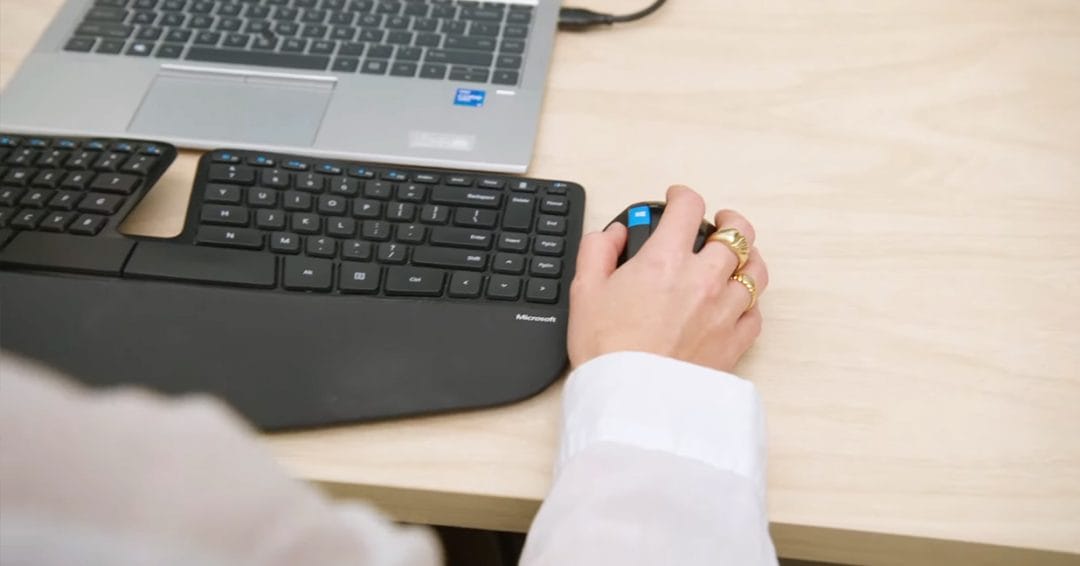 People are encouraged to take regular activity breaks.
Sitting for long periods without taking breaks can lead to various health issues, including back pain, fatigue, and reduced productivity. It's important to take regular breaks, stretch, and perform light exercises to promote blood flow, reduce muscle tension, and refresh your mind.
A good rule of thumb is to take a break and move around for a few minutes every 30-45 minutes of work. This break can include walking, stretching, or even doing simple exercises like squats or lunges. Regular breaks can help you stay alert and focused while reducing the risk of health problems associated with prolonged sitting.
Create an Ergonomic Environment with Buro
With remote work increasing in popularity, businesses need to prioritise employee health and wellbeing away from the office. Sitting for prolonged periods can lead to various health issues, so creating an ergonomic environment that promotes good posture and reduces discomfort is crucial. Investing in high-quality ergonomic equipment for staff and encouraging them to take regular activity breaks will help maintain their health and productivity while working from home.
Additionally, the Australian Physiotherapy Association now endorses a selection of our ergonomic seating range. When creating your work-from-home environment with Buro Seating, look for the APA logo on our spec sheets and brochures to determine if your favourite product is endorsed.