Not every office chair is created equal, and the Konfurb Sense is one that always seems to stand out from the crowd. In the past year, Buro's top of the range chair has won a prestigious iF Design Award and a Red Dot Design award, receiving international acclaim for its unique design, ergonomic technology, and sustainable credentials.
Here's a breakdown of what makes it great:
Inside the design
The Konfurb Sense was created by leading creative team ITO Design Switzerland. The chair is designed to provide tailored comfort, with distinctive contour lines that wrap around its backrest, highlighting its lumbar support, which flexes with the body. 
The Sense's flexing lumbar pads are one of the chair's most innovative features. They can be adjusted independently, and the function is responsible for the unique line flow that runs along the backrest.
Available in black, grey, or blue, the chair's seat and backrest colour combinations are designed to give the appearance of a simpler-looking product. The colours and materials are crafted to bring the most out of its contours and curves.
The Konfurb Sense has a different aesthetic from a standard office chair; rather than conveying performance and functionality, it has quiet design language and sleek main features. Wrapping the backrest mesh simplifies the construction of the chair, topping off its unique look.
Advanced ergonomics
Every Buro chair is made with ergonomics in mind, but the Konfurb Sense takes things to the next level. Despite its casually cool appearance, ergonomic technology is woven into the understated design.
One standout innovation in this designer office chair is its two adjustable and flexible lumbar support pads. They tuck discreetly under the signature wrap-around mesh backrest.
Normally, lumbar support is a horizontal piece that runs across the back of the chair. But this chair redefines normal. Lumbar support is split on both sides, creating a gap that makes it unique. The feature provides support to the lower portion of the spine, filling the gap between the spine and seat. The chair's flexible pads can be adjusted to each user's individual needs.
The materials and technology used in the Konfurb Sense add a layer of luxury. The chair features a synchro mechanism, resulting in a natural body movement when used.
Greater natural body movement has a number of benefits, from improving musculoskeletal comfort and encouraging circulation to supporting easy breathing. It helps users stay alert for longer, giving them enhanced vitality and energy.
The synchronised seat and back tilt mechanism allows you to continually move through a range of postures, and it can also be locked in the desired seating position.
The synchro mech allows the seat and backrest to tilt gently in line with the user's movements. This increases mobility and sustains postural support throughout the day.
To top things off, the Konfurb Sense's signature wraparound backrest mesh simplifies the visible construction of the chair, retaining its unique aesthetic.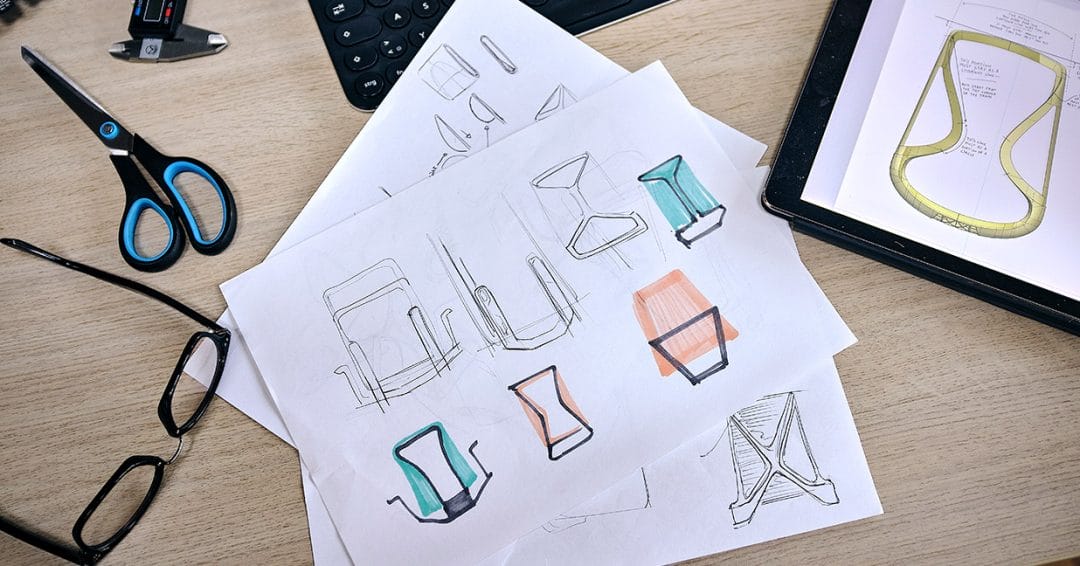 Photo by ITO Design   |   Designed by ITO Design
Every seating angle covered
The Konfurb Sense seat is relatively flat, and set at zero degrees in its default position. This is comfortable for the user and allows for an optimum forward slope of the thighs of around 10 degrees, offering a comfortable ergonomic alternative.
The synchro seat and backrest tilt gives an extra 3-degree forward seat tilt to ensure you have every angle covered.
The chair's tilt limiter can be engaged or disengaged, giving you the option to sit in a working posture or one better suited to meetings, presentations, and interviews. A true all-rounder.
Ergonomic seal of approval
Don't just take our word for it on ergonomics. The Konfurb Sense has received a glowing assessment from renowned ergonomist Andrew Wilson. Find out more here.
Konfurb Sense Operational video demonstrates how to use the adjustable features to tune your chair for optimal ergonomic health and wellbeing.
The materials and technology used in the Konfurb Sense add a layer of luxury.
Photo by ITO Design   |   Designed by ITO Design
The Buro Mentor also features Dynamic Intelligence™ technology that supports optimal posture and organic movement.
At home, everywhere
The Konfurb Sense is the perfect option for remote workers. It looks great and delivers all of the benefits of an office chair with the added bonus of cutting-edge design. 
It looks right at home wherever; tucked in the corner of a living room, in the home office, or in a traditional office environment. The chair's design keeps its sophisticated functionality under wraps, creating clean lines that are quiet and comforting.
The Konfurb Sense appears less technical than a standard office chair, and looks more friendly and inviting. It's great for dual use — it can add a splash of modern design to a room, or perfect functionality.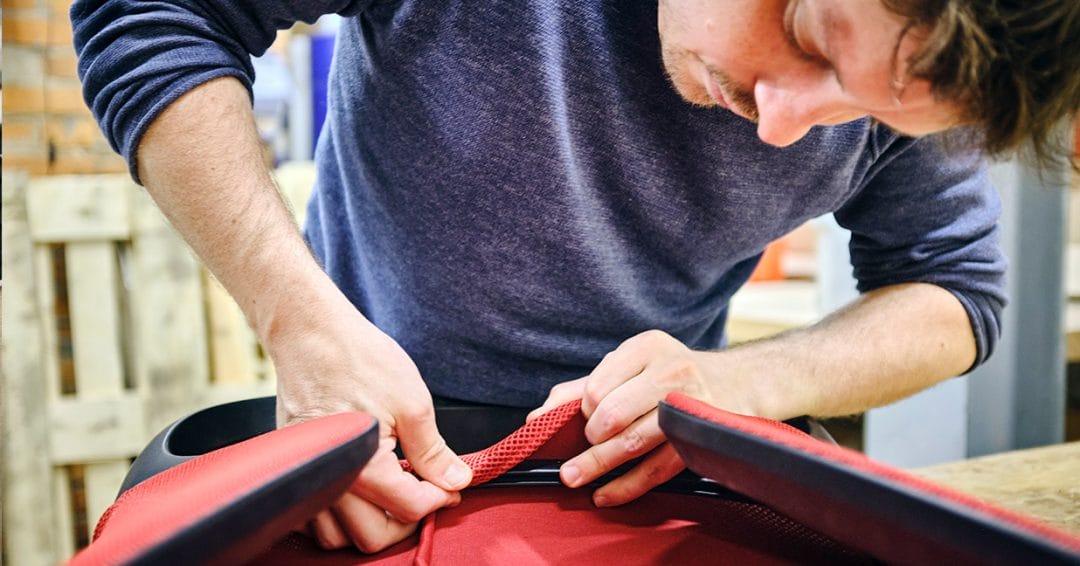 Photos by ITO Design   |   Designed by ITO Design
Simple to set up
A tool-free assembly process ensures the Konfurb Sense is stress-free to set up and adjust. Its durable materials can keep up with all-day, everyday use at home, at work, or wherever this undercover agent finds itself.
Konfurb Sense Assembly Video demonstrates how to easily set up the Konfurb Sense chair. 
Eco-friendly
Not only does the Konfurb Sense look great — it's a sustainable office chair too. It is made using 100% post-consumer recycled plastic, making it less harmful to the environment. Great news for buyers who want to reduce their environmental footprint with the help of innovative technology.
More than ever, furniture designers are looking to introduce recycled plastics into their production processes, cutting down on the waste that sadly ends up in landfills or the ocean. 
The Konfurb Sense is GreenGuard Gold Certified. It has been tested and scientifically proven to have low chemical emissions, and is guaranteed to give off lower levels of volatile organic compounds.