The past few years have disrupted the traditional office as we once knew it, with many employees adapting to working from home and on the fly as well as in the office as part of their work repertoire. The workplace has become a physical space that embodies company culture, values and vision and is a crucial place to connect and collaborate with colleagues in-person. To support this, an office design trend is using a neutral colour palette.
In one of our previous blogs, Relaxing into hybrid work, we explore office design trends and the impact that small design changes can have on our health and happiness. We cover key qualities of a hybrid office that attracts and inspires employees; resimercial design, biophilic design (greenery), and flexibility. In this blog article we go even deeper into office design and explore the office design trend of embracing a neutral colour palette and the effect this has on the workspace, how people use it and how they feel.       
Neutral colours, such as beige, white, and grey, can make an office feel more open and airy and create a calm atmosphere. A neutral colour palette can be easily paired with pops of colour to add interest and personality to the space. You could also play with a monochromatic colour scheme by taking one colour and exploring the different shades. 
Incorporating a range of neutral tones throughout the office, from the floor to the ceiling and all elements in between, can create a cohesive and timeless look. Consider adding patterns and textures to break up the neutral palette and keep the space inviting and inspiring. Some elements to consider colouring include paint, seating upholstery, curtains, carpet, rugs, cushions, light and partitions.
The key to using a neutral colour palette effectively is to layer and weave together a range of neutral tones to create a cohesive and timeless look. Avoid using the same neutral colour throughout the office, as it can make the space look monotonous and uninspiring. Instead, add patterns and textures through upholstery, furniture, and flooring to add visual interest and keep the space inviting and inspiring.
How to use colour theory in office design
Studies have shown that certain colours, such as blue and green, can promote focus and concentration, while others, such as red and yellow, can increase energy and alertness. By using a neutral colour palette as a base, companies can then incorporate these colours in specific areas of the office to support differentiating office spaces into different tasks and activities.
3 neutral colour palette offices that we love
These offices demonstrate how neutral colour palettes can be combined with natural elements, flexible spaces and biophilia to create inviting and calming office spaces that support employees overall wellbeing.
Cigna, Hong Kong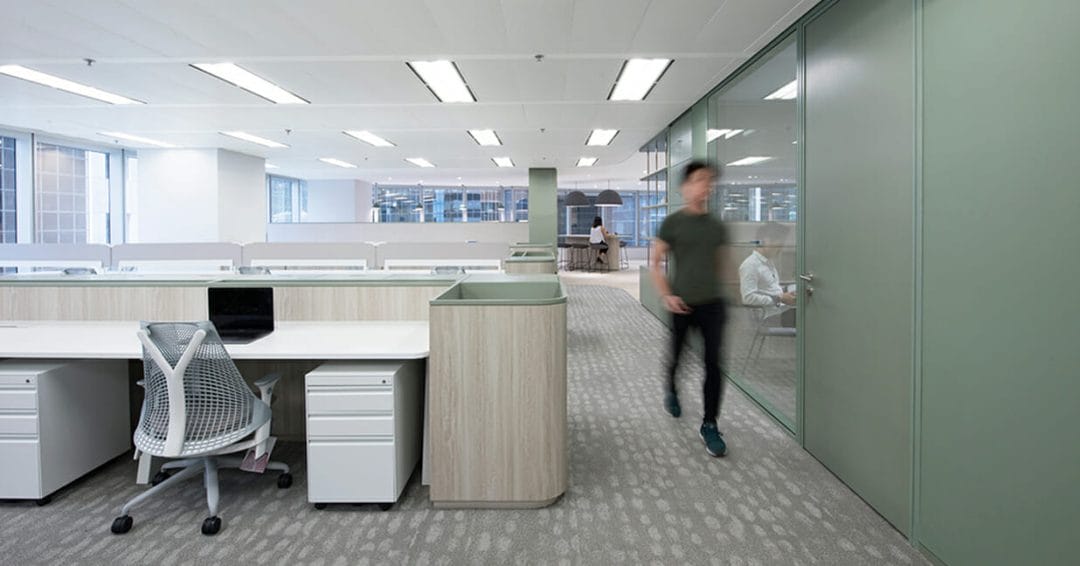 Cigna's new Hong Kong office designed by Bean Buro is a great example of an office with a spacious and calm feel through light neutral and pastel colour palette. Colour is used to differentiate spaces, the workstations are held with a calming natural green palette, whereas the social areas have wooden finishes and pops of accent colours. "The intent is to create an energetic and positive ambiance," says Bean Buro's Founding Director Lorène Faure.
Going against how we might perceive the traditional office, no black is used in the design, even when it comes to the office furniture. Light toned furniture with some upholstered in pastel fabrics create a sense of calm throughout the spaces. 
Gensler, Miami USA
The Gensler offices in Miami, created in 2021, are a light-filled workspace with large windows, high ceilings, glass panels dividing rooms and white walls. The office design palette includes light teak wood, soft whites and beiges, and plenty of biophilia (greenery) throughout the space
Photography: Devon Banks
Confidential Client Offices, Istanbul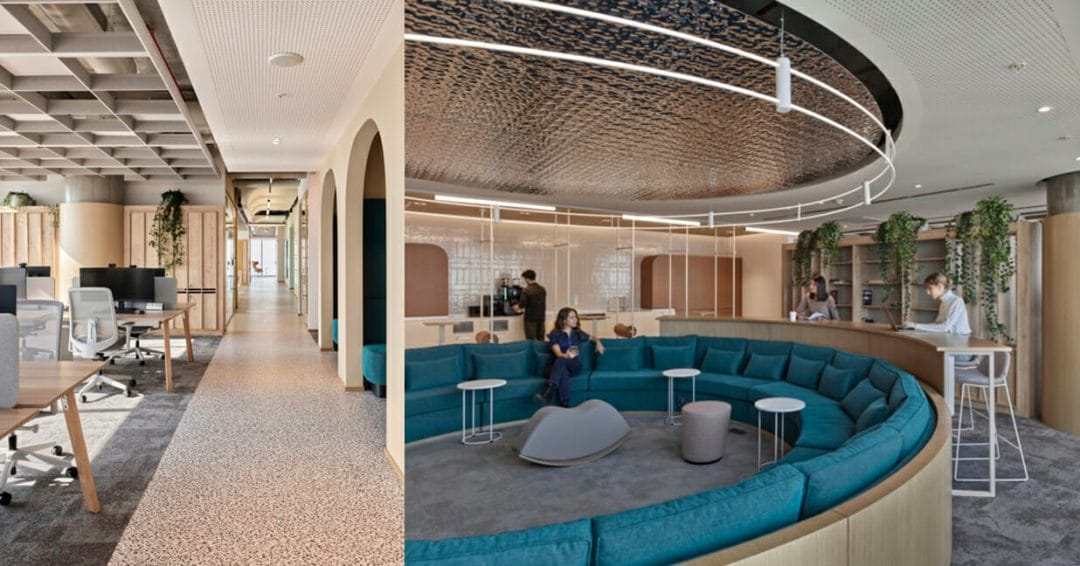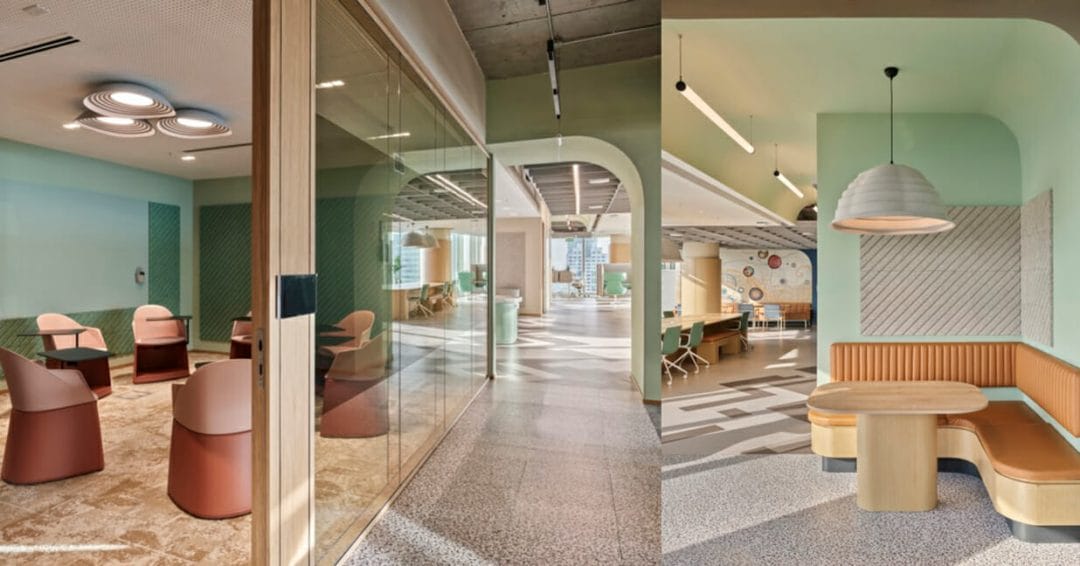 We've been drooling over this wellness-focused office, created in 2021 by Studio 13. The office features more colour than the previous two we featured, while using neutral tones throughout the floor, walls and ceiling to create coherency. The pastel toned colours give a feeling of lightness and reflect the natural environment. Office furniture follows this theme with light-coloured frames, and neutral or pastel upholstery, once again an office with no black in sight. 
As Office Snapshots reports, "Our main goal was to create a space that brings people together, inspires them. Encourages collaboration and makes it easy for a user to have a great experience and feel comfortable. The aim was to add quality to the workplace that would bring people together not because they have to but because they want to use it. A workplace that could offer more than a home office, designed for greater flexibility and mobility, for every generation." 
Photography: Ibrahim Özbunar
The Konfurb Harmony chair, designed by Martin Ballendat, has been awarded the prestigious iF Design award in 2019.
The sleek and sophisticated Mondo Soho desk chair boasts not only charming curves, but also exceptional comfort, making it a perfect addition to any office space.
Redefining the modern office chair
When you envision an office chair, what's the first thing that comes to mind? Is it a black chair? Something sturdy and robust with multiple levers for adjustability? This has been the predominant office chair for decades. Though, times are changing. More recently, modern offices have been fitted out with the opposite. A light coloured chair with a slim profile, providing a more designer residential look. 
Achieving a visually stunning office with designer-looking office chairs may come at a cost to ergonomic comfort. It is important to prioritise selecting chairs that are suitable for the amount of time people will be sitting at their workstation for, as prolonged sitting in an inadequate chair can lead to discomfort and strain. In order to create a comfortable and productive work environment, it is crucial to choose the right chair for the task at hand. For example, in an office where employees are sitting for extended periods, ergonomic chairs with adjustable features and support for different postures would be a better fit. Additionally, many studies found that switching between different postures during the day can have a positive impact on wellbeing.
At Buro, we're all about putting ergonomics and people's health and wellbeing first. We believe that an ergonomic and stylish work environment is not mutually exclusive.  Our ergonomic chairs not only offer superior support and adjustability, but feature a sleek aesthetic that seamlessly blends both form and function. 
The following three ergonomic chairs are our top picks for achieving a neutral toned office. All featuring slim profiles, breathable mesh backs and light coloured frames. 
Buro Elan
The Buro Elan has a graceful appearance, elegant lines and advanced ergonomic design that senses the users needs, allowing them to optimise their comfort through very few manual adjustments Recognised by Andrew Wilson, Ergonomist and Osteopath for its innovative lumbar support.
Konfurb Harmony
The Konfurb Harmony office chair strikes the perfect balance between style and functionality. With its sleek design and range of base options, including the 5 Star, 4 Star, Drafting, and Guest – 4 Leg, this multi-purpose task chair offers the ergonomic support you need to stay comfortable and productive throughout the day. The Drafting variant even allows for perching height adjustments, providing ultimate flexibility and promoting a variety of working postures for increased comfort and concentration. The chair is available in a light grey frame to match your interior colour palette.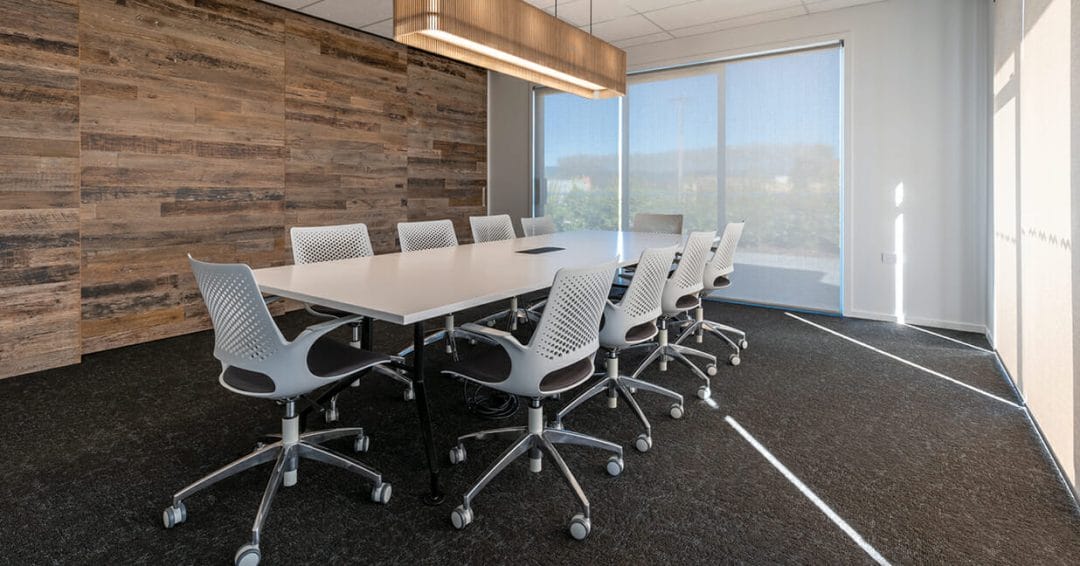 Konfurb Luna
The Konfurb Luna embraces minimalism, and uses less to achieve more with its uncomplicated design. It's an active seating chair, designed to improve posture by encouraging natural movement and flexibility. the Konfurb Luna is available with both grey and white frame options.
When choosing office furniture remember to select furniture that focuses on sustainable practices at product origin as well as end of life is an effective strategy to improve workplace sustainability and culture. Look for the quality assurance certifications GREENGUARD, ISO, AFRDI and FSC. Buro ensures that all furniture undergoes stringent testing to adhere to top international standards. Read more about Buro's certifications and standards.
The trend of using neutral colour palettes in office design is a trend expected to continue, as they provide a calming atmosphere that employees find attractive and inspiring. These versatile colour schemes can be easily customised to fit different style preferences and company branding, making them a flexible and timeless choice for office interiors.
A well-designed office, no matter the size of your business, can improve employee morale and productivity by demonstrating a commitment to their wellbeing. From small efforts to larger investments, the interior design of your office plays a crucial role in creating a positive and supportive work environment for your team.