The right conference room layout design can make a huge difference in the workplace, boosting creativity and leading to more productive meetings. Conference rooms are an essential part of any modern office, as more of us participate in video calls, give digital presentations, and collaborate on projects. 
As more people return to the office, conferencing is more important than ever. Are you making the most out of your conference room, or lacking inspiration? Here are some of our top tips for designing, furnishing, and laying out the perfect conference space.
A robust all-purpose staking chair, the Buro Maxim with a sled frame provides superior user comfort with an upholstered foam seat pad.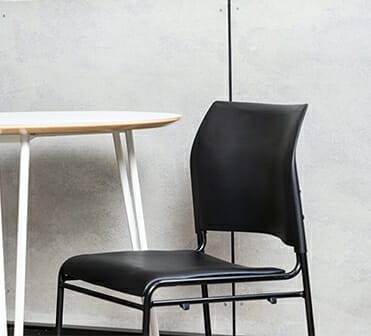 The sleek lines of the Buro Lindis guest chair command a formidable presence in any conference room. Featuring a strong reflective powder-coated stackable sled frame (indent), or select a 4 leg base option.
Case study: Dunedin City Council
We love to see our furniture in well-designed conference spaces around the world, and the Dunedin City Council Conference Room has used our seating to great effect. 
Dunedin's council engages in long, active sessions all year round, and meetings can last for hours on end. Gatherings often involve guests and members of the public, so the council needed a range of different seating options. 
The team wanted seating that could prioritise the comfort and wellbeing of their members while also offering ergonomic options for guests.
NZ reseller Metalon provided the Dunedin council with thirty Buro Metro II office chairs for councillors and 10 Buro Essence chairs (available in NZ only) for visitors. The chairs were selected for their ergonomics, strength, and support.
The collaboration between the council, Metalon, and Buro ensured everyone was happy, with great seating for council members and comfortable, modern seating for guests.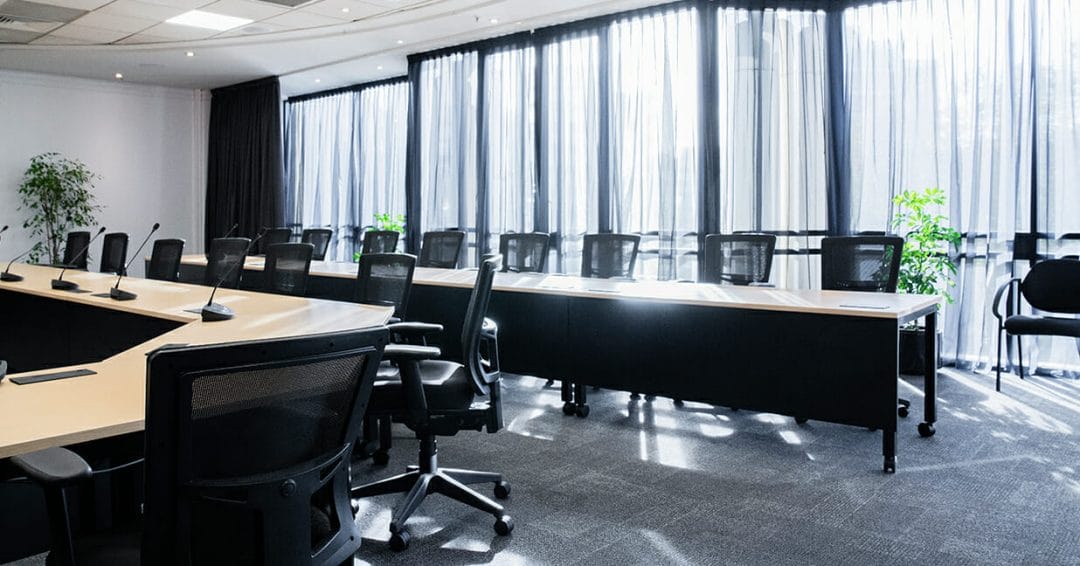 Design and layout
Now you have some furniture inspiration, let's talk layout and design. 
Design components to consider
Generally what differentiates a conference room from a meeting room is size. Conference rooms can cater to larger groups of people; however it should feel spacious rather than stuffy. Having more space will enable better movement and communication, leading to more productive meetings.
Light is another important issue. A conference room should be filled with natural light. Good lighting can boost concentration, while a dark room can result in a loss of focus. Is extra lighting required above your table? 
Audio-visual equipment: your conference room won't work without the best audio-visual equipment for in-person meetings and conference calls. Strong internet connectivity, 4k video conference capabilities, and a decent sound system are vital. 
Classic layout options
Conference room layout design can make or break your meeting space. A great setup can create a dynamic environment and bring the best out in people, but poorly designed rooms can leave staff feeling disengaged.
Is your conference room for board meetings and executive strategy? Or team brainstorming sessions? Your layout needs to be tailored accordingly.
Here are some of the most common conference room layout design options:
Boardroom style
This classic style features a long rectangular table with chairs on each end and either side. The boardroom style can suit group work as well as client meetings.
U-shape
Another popular setup, a u-shaped table works well for presentations, demonstrations, and video conferences where the focus is on one end of the room. This setup can be adjusted to suit smaller all larger conference rooms as demonstrated in the images below.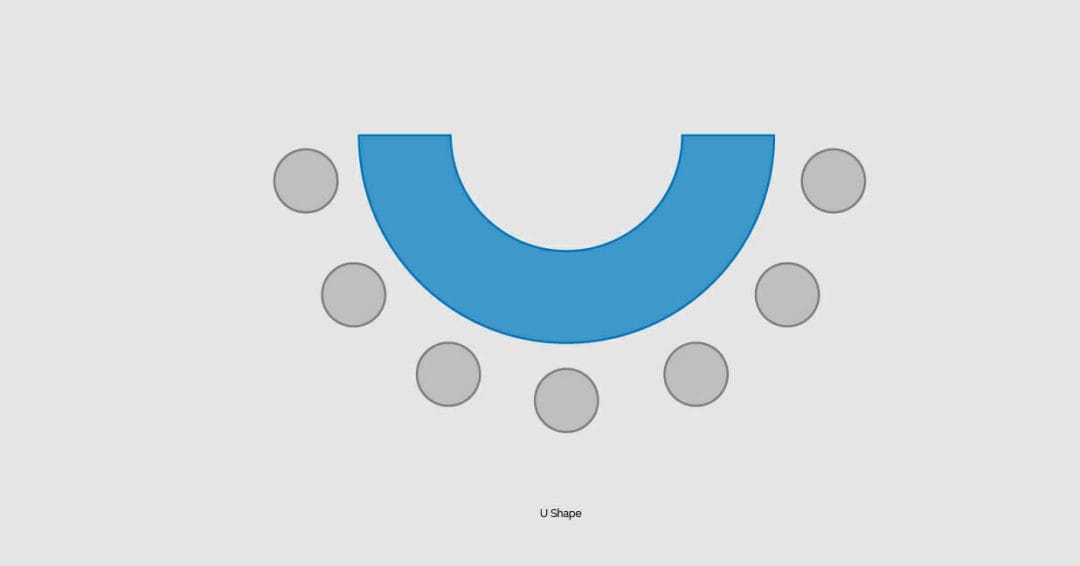 Hollow square
A hollow square table layout is a good choice for easy group communication, but takes up more space. Better suited to large conference rooms.
Theatre
A theatre style seating arrangement features rows of chairs facing the front area of the room.
Extra tips for boosting attendee engagement
As more people return to the office, your conference room should be an inviting place to encourage participation and idea-sharing.
Here are three extra tips to boost engagement:
Remember the view
Ensure everyone in your conference room can see and hear the moderator of your meeting. It's important to consider where the facilitator will stand; they should be front and centre for maximum engagement.
Use tech to your advantage
Interactive tools can keep participants engaged and energised. Multimedia presentations are a great way to keep people interested, so a quality audio-visual setup is key.
Embrace hybrid design
Most of your conference meetings will be attended by both office employees and remote workers. Room configuration should support both, so think about where to point your cameras and screens.