For both Kiwis and Australians, a large part of our identity comes from the natural environment. However, with environmental concerns on the rise, the responsibility to protect our much-loved environment also increases. After all, we wouldn't be here without it.
Luckily conscious consumption is increasing. As consumers become more eco conscious and opt for more environmentally responsible products, it creates a knock-on effect of increased demand for sustainable products. The Eco-friendly Furniture Analysis Report by Grand View Research states that there were 27% of green building activities which comprised over 60% green projects in 2018. This demonstrates an increased demand for eco-friendly furniture, stemming from the growing desire for eco-friendly buildings worldwide.
The UK-based Ethical Consumer organisation have created a sustainable furniture purchasing checklist based on three simple questions:
Is it second-hand?
Is it made with reclaimed or recycled materials?
Is it FSC® 100% certified?
There are nuances of what to look for in different types of office furniture. In this article, we focus specifically on sustainable chairs. We expand on how you can use these three questions to guide your sustainable chair purchase and what other factors to consider.
We're not saying we're perfect. In fact, we believe we could always be doing better. It's that attitude that makes us industry leaders. However it's also part of our company culture to celebrate our successes. Featured below are some of the ways that we are doing our best for the environment.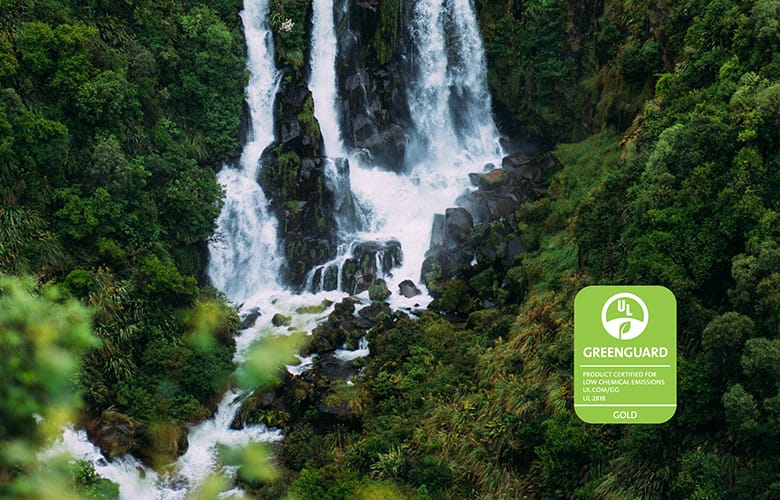 GREENGUARD Gold certification, verifies low volatile chemical emissions and suitability for use in school or hospital environments.
Is your sustainable office furniture second-hand?
Furniture is the fourth most popular category of second-hand products sold, following after; cars, exercise equipment and leather and suede items. There are many reasons to buy second-hand, more sustainable office furniture.
Whether it's adding a unique look to your home or workplace with a retro chair. You could find a chair that's high quality, and has stood the test of time. Or like many people these days, you could be looking for a more sustainable option.
Believe it or not, at Buro we're in full support of people buying a second-hand chair over a new one. That might sound strange coming from us as we're not in the business of selling second-hand furniture, but we are a socially responsible business. This makes us conscious of the impact we are having on all aspects of society, including economic, social, and environmental. Let's face it, buying second-hand is likely the best affordable eco-friendly furniture option you can find.
The ecological footprint of a second-hand chair is little to none compared to a new chair. A new chair's ecological footprint takes into account raw materials, processing, manufacturing and shipping processes. If you purchase a second-hand chair, you're avoiding using any new raw materials in the first place. This saves on natural resources, and manufacturing processes.
Our only concern with purchasing second-hand, is that your office chair is ergonomic. Don't compromise on your health and end up with a bad back because you've opted for what you thought was the best sustainable second-hand option. Read our article, Office Ergonomics: How to set up your workstation to ensure your chair is set up correctly for you.
Is your office chair made with reclaimed or recycled materials?
Overall, there's a growing trend of using recycled materials in new products. In office chairs wasteful materials, like specific types of plastic, can be switched for the better alternative, recycled plastic. Recycled plastic is designed to stay in the product life-cycle rather than go to the landfill. At the end of the chair's life, the recycled plastic is recycled again, melted down and returned into the system to create a new chair or other plastic products.
At Buro, a core principle of our environmental strategy is to design, manufacture and source products containing minimal raw materials. We're committed to expanding our range of chairs manufactured from recycled and recyclable materials.
The Konfurb Sense office chair is our first chair manufactured using 100% recycled plastic. This RedDot and iF Design 2021 award-winning chair is available throughout Australia. It's an office chair that is as stylish as it is sustainable. Its sleek lines encase a flexible, dual-sided lumbar support. The responsive seat tilt and fully adjustable features slip quietly into its distinctively smooth profile. Despite its casually cool appearance, ergonomic technology is woven into the understated design.
A tool-free assembly process keeps the setup and adjustment of this chair simple. Durable materials allow it to keep up with everyday use at home or work.
How office chairs get recycled
According to EPA (2019), 8.5 million tonnes of office furniture is sent to landfills every year.
Although this includes all office furniture pieces (such as desks, dining tables and shelving), office chairs still make up a large part of this problem. The biggest issue with office chair waste is that it's not going to break down in the landfill and contributes to greenhouse gas emissions.
Buro Seating is addressing this issue and demonstrating our commitment to responsible product life cycle management through our Product Stewardship Programme. The Product Stewardship Programme is built upon principles of the circular economy, where products last as long as possible and no waste is created at the end of a products life.
When your Buro office chair finally reaches the end of its life, it can be donated to your local charity shop. Instead, you can get in touch with us, and arrange to have your chair returned to one of our warehouses or 3PL providers for a small cost.
Once we receive your preloved office chair, we will check it for re-conditioning, re-purposing, or disassemble it and sort it for recycling.
Re-conditioning and re-purposing is for returned chairs in good working order. We begin with a thorough assessment, followed by cleaning and refurbishing the chair as necessary. Refurbishment may include replacing components like castors, bases and the gas lift; and reupholstering. We then either donate these preloved refurbished chairs to a local charity shop or they can be sold via online auction.
Disassembling and sorting is for returned chairs in poor condition that are damaged beyond repair. They get broken down and sorted into their respective components. Any recyclable components, such as steel, cardboard, low-density polyethylene and polypropylene, will be recycled by 3rd party recycling facilities. As a last resort, any items that cannot be recycled will be sent to landfill.
Our vision is for preloved re-conditioned and repurposed chairs to be donated to local schools or community associations. We are working on establishing partnerships with these organisations and aim to have two partnerships in place by the end of 2022. This initiative will help to support our local communities and enable our product stewardship goals.
Is your office chair FSC® 100% certified?
The Forest Stewardship Council (FSC®) strives to ensure that the use of the world's forests is environmentally appropriate and economically viable. A FSC® certification demonstrates responsible sourcing of any wood or forest materials used in products. Look out for three different types of FSC® labels that help identify that sustainable materials are used and that forestry products are ethically sourced.
FSC® 100% – All the materials are sourced from forests that have been audited to confirm they are managed according to FSC®'s rigorous social and environmental standards.
FSC® Recycled – Have been verified as being made from 100% recycled content (either post-consumer or pre-consumer reclaimed materials). Recycled products help alleviate the pressure of demand on sources of virgin material.
FSC® Mix – Products are made using a mix of materials from FSC® certified forests, recycled materials, and/or FSC controlled wood. Controlled wood is not from FSC® certified forests, it mitigates the risk of the material originating from poor sources.
Most computer chairs contain plywood in the seat and some also in the backrest. Look for the FSC® certification on each product to make sure your office chair is made from FSC® certified wood and ethically sourced environmentally friendly forest materials. The same goes for other office furniture; coffee tables, standing desks and storage cabinets.
Buro's license number is C178817.
Is your office chair GREENGUARD Certified?
A product that has achieved GREENGUARD Certification has met some of the world's most rigorous and comprehensive standards for low emissions of volatile organic compounds (VOCs) into indoor air. Choosing a chair with GREENGUARD certification ensures that it's healthier for you and the environment.
The Eco-friendly Furniture Analysis Report by Grand View Research states, "office furniture which releases VOCs can cause allergies, migraines, and asthma." The release of VOCs are a growing concern for customers and a driving factor as to why they're shifting towards buying sustainable furniture products.
Buro Seating is committed to upholding and improving our internationally recognised GREENGUARD Gold certification for a selection of products. See a list of our GREENGUARD Gold certified products.
With any office chair, make sure to look deeper into the certifications.
Does your office chair have a long life?
Durability is a key consideration when it comes to conscious consumption. If an office chair is built to last it's highly unlikely that it's going to end up in the landfill any time soon. Think of the drastic reduction of environmental impact by only purchasing one office chair in your working life rather than two.
Buro Seating was the first Australasian seating company to introduce a 10-year warranty, almost 20 years ago. It was our commitment to reducing waste by providing extended lifetimes on our seating products. Today, all of our computer chairs come with a 6-10 year guarantee so they're built to stand the test of time.Follow these considerations when shopping for sustainably sourced furniture, and relax knowing that you're making a more environmentally responsible choice.
To understand more about Buro Seating's commitment to quality and sustainability, check out the Certifications and Standards page.