In today's fast-paced work environments, it can be easy for employers to focus solely on productivity and forget about everything else. But increasingly, staff want more out of their job; they want an employer that will look after them and factor in work-life balance. Does your organisation recognise the need for staff to take regular breaks, and are you making the most out of your recreational spaces?
The importance of a recreational office space
Since the Covid-19 pandemic, there has been a greater focus on employee wellbeing and work-related stress, making it crucial for organisations to build a positive and supportive working environment. Recreational spaces in the office can be an oasis of calm, a place to let off some steam, and entice home workers back to the HQ.
A well-designed recreational space can boost morale, set your organisation apart in the recruitment race, and demonstrate your values as a company. Here's why it's important to get recreation right:
Boosting mental health
Looking after your mental health is just as important as taking care of your physical health. With that in mind, a recreational space can have a positive impact on your employees. The possibilities are endless; a recreational area can be used for all kinds of purposes; it could be a quiet zone, a games room, or simply somewhere for people to socialise.
Encouraging team-building
If you want to build a great team, having people tucked away at their desks all day probably isn't the best idea. A recreational space is somewhere for staff to get to know one another, meet people from different teams, and lift morale. Some workplaces have ping-pong tables or board games. Each of these ideas can give your team a boost.
Delivering a work-life balance 
Younger generations are redefining the workplace; they want to work for an employer that recognises their need for a work-life balance. Some studies show that 75% of Gen Zers (people born between the mid-1990s and 2010) prefer working from home, so it's vital to make your office a place worth commuting to. Ultimately, people love socialising and collaboration, and you can deliver that with a well-designed recreational space.
Ideas for creating a recreational space for workers
Recreational spaces in office buildings can make or break a working environment, so it's important to get the design touches right. Where should you look for inspiration?
Fortunately, some of the world's forging companies' are leading the way in building some awesome rec rooms for their staff. Here are some great ideas from the world's biggest companies:
1. Google
While a famously demanding place to work, Google is well-known for going the extra mile with its recreational spaces. Employees are encouraged to have a healthy work-life balance, so recreational rooms are kitted out with ping-pong tables, arcade machines, foosball tables, and quiet spaces to reflect and relax. 
Not content with giving employees indoor rec spaces, the company has also invested in outdoor recreation, building basketball courts, sand volleyball courts, crossfit areas, and even a zipline!
2. McCann Worldgroup
London-based advertising company McCann Worldgroup redesigned its workplace in 2021 to fully embrace collaboration and social interactions. Its new office, The Manor, has a wide range of open-plan spaces, including a light-filled atrium for recreation on each floor.
Indoor and outdoor gardens help staff stay connected with nature, while the McCann HQ also has wellness rooms and temporary spaces to host pop-up installations including tennis and basketball courts.
Furniture inspiration for your recreational space
While your organisation might not have the financial clout of a big American tech company, you can still make smart design choices to make the most of your recreation rooms. Here are some of our top furniture pieces used by organisations on both sides of the Tasman.
The Konfurb Orbit
The Konfurb Orbit Mid Back with 5 Star Base is a height-adjustable chair characterised by a sleek and minimalist design, with a dominant 'wing' style that seamlessly complements various spaces. Choose from three stunning fabric colours – Charcoal, Rust, and Olive.
For projects with longer lead times, choose from eight chair configurations, from four different bases; 5 star swivel, 4 legged wooden, pedestal and sled with mid back or high back options for each base.
Kitting your recreational room out with sharply-designed swivel chairs can also make your recreation room more homely.
Designed by the internationally-renowned designer Mac Stopa, and is perfect for laid-back meeting spaces. This chair can deliver both style and functionality.
They might look simple, but a humble café chair, like the Konfurb Duoblock featured below, can change the mood of a stuffy office room and make your space feel more like a cosy eatery. Our café chairs are built to withstand high traffic, active movement and daily use, and wouldn't look out of place at your favourite hangout spot.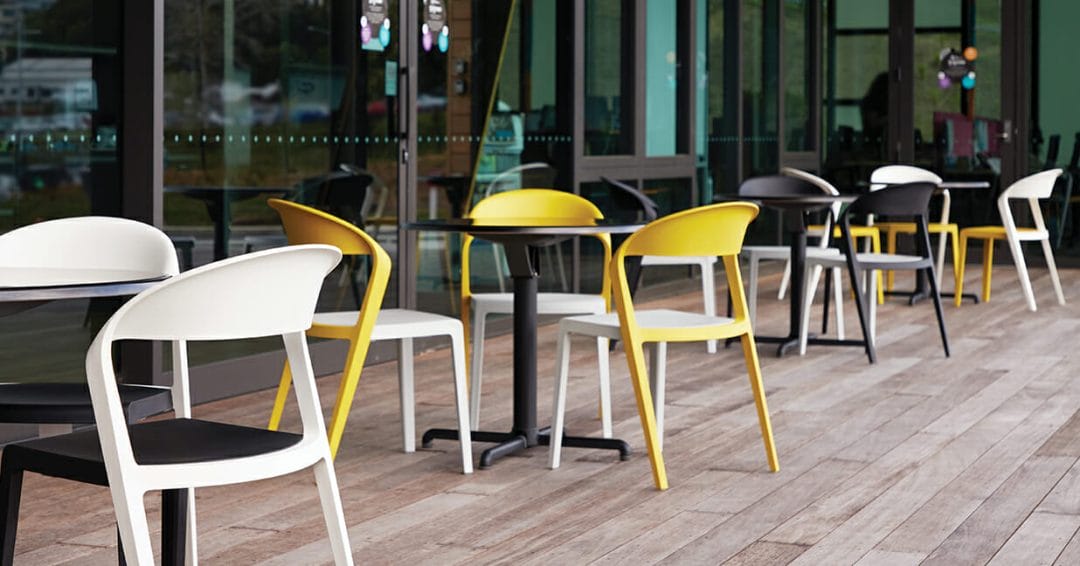 Office sofas and soft seating can add a touch of luxury and relaxation to any office. Ottomans and soft modular furniture like the Konfurb Eightby4 Series create an inviting place for staff to sit back and forget about the office grind for a few minutes. They're also a great place to collaborate and socialise.
Combining stools can create a collaborative environment in your rec space, giving the room a totally different feel to the rest of the office. The Buro Peekaboo Stool is often used in educational settings and hospitality venues, turning your rec room into a trendy bar or café. What's more, Buro Peekaboo stools can be stacked when they're not in use, making them a tidy space-saving option. 
The Konfurb Pala Barstools, featured below, are popular for bar and café recreation spaces. The stools feature clean lines and a solid wood neutral frame. The contoured seat back provides support while the cross footrest allows you to rest your feet for more comfortable sitting. Choose the polypropylene seat option for durability and easy cleaning or the upholstered seat option for added comfort. Available in quick ship Culp Dorset Grey fabric or custom fabric to suit your home or workplace.