While ergonomics is often perceived as a buzzword, the science of ergonomics has shaped the way humanity has worked for millennia. From archaeological digs uncovering bone-based implements to extend reach, to Hippocrates' use of ergonomic principles to optimise the workspace environments of medical practitioners, ergonomics has existed for as long as humans have attempted to unlock better performance in both work and leisure.  
But ergonomics is about much more than convenience. Our mental and physical health, motivation and mood are all impacted by the way we move; something Charles Darwin recognised as far back as 1872 in his work The Expression of the Emotions in Man and Animals. With our mere posture able to impact the way we feel at a hormonal level, the case for ergonomics couldn't be more clear; optimise your environment, and you optimise your life. 
At Buro, ergonomics is the backbone of all we do, from the design and construction of our award-winning office furniture, to our ongoing research into how smart workspaces can rapidly improve lives and businesses. Whether you're new to the topic, or are looking for a quick refresher on the transformative power of the science of ergonomics, here's a look at some of the countless benefits it can provide:

1. Improve productivity 
If productivity is the engine behind every successful business, ergonomics may very well be the fuel. From postural improvements and the comfort they provide, to fewer repetitive motions, greater focus and efficiency, simple changes to work environments allow us to work faster, with higher energy levels and fewer mistakes as a consequence. Often, all it takes is quantifying productivity to see the real value. 
While the human value through improvement to health and wellbeing is immediately apparent, slight increases in productivity can transform businesses financially. According to Earl Hagman of Ergotech Inc, a company with 100 staff on an average of $12 USD per hour could produce a bottom-line return of $50,000 USD per year if they increased worker productivity by just 5 minutes. Now imagine the benefits an hour of additional productivity could provide…
2. Improve mental wellbeing
Stress is often touted as the silent killer, and can be incredibly detrimental to health and wellbeing if not managed effectively. While small amounts of stress can be motivating and encourage us to face challenges, stress can quickly become overwhelming, particularly when working in fast-paced environments, where long hours and deadlines can amount to substantial pressure. Fortunately, ergonomics can do wonders for taking the edge off.
Whether this is a clean work environment free from clutter, streamlined equipment, designated leisure spaces, optimised lighting, or a comfortable desk chair that promotes relaxation and calm, a few ergonomic tweaks to workspaces are often all we need to remove the impact stress has on ourselves, or our staff.
3. Improve workplace attendance
Whether you're working from home or are an employer attempting to create a more inviting workspace, ergonomics can work wonders. Injuries and musculoskeletal disorders are one of the leading causes of absenteeism and time away from work. In Australia alone, 25% of workers experiencing back pain aged 18-55 are taking 10 or more days off work each year. something that can easily be improved with quality ergo office furniture, and smart stretching plans incorporated into a daily routine.
In addition to reducing pain and injury, smart work furniture can simply make venturing into the office or sitting down at the desk to dive into work all the more enjoyable, improving the work we do there as a result.
4. Improve work quality
Improved work quality is next on the list and the results are in: ergonomics simply works. When you factor in the aforementioned benefits of increased productivity, better worker wellbeing and improved attendance, all of these compound to rapidly improve the quality of the work we produce. Whether you view this benefit through a business lens, or through that of a worker's own personal development, and job prospects, ergonomics can be the ticket to an improved work experience for both employees and workers across the board.
5. Promote workplace safety
Finally, improved safety is another benefit ergonomics can provide. Workplace hazards can come in many forms; whether through poor placement of furniture or appliances, to tight spaces, or the less acute risks to safety that come from poor desk height, chair to desk distance, screen placement and the deleterious effects these can all have on our bodies.
A safer workplace, even from the perspective of greater everyday comfort is something our bodies, and bottom-lines will thank us for. Much like an athlete running in tattered, imbalanced shoes, no matter how hard we go, we can't outwork poor equipment. Small changes are surprisingly simple to make.
Invest in some intelligent office furniture, keep your desk at elbow height; you might try some armrest pads, standing desks, or a chair with adjustable lumbar support. Even things like ensuring your laptop sits at eye level can keep your posture in alignment and improve your productivity as a result. Watch our video, How to Set Up an Ergonomic Workstation to learn what will work best for you.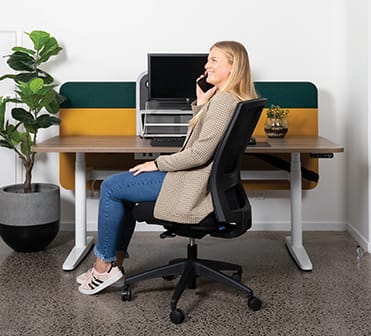 The Buro Mentor also features Dynamic Intelligence™ technology that supports optimal posture and organic movement.
So you're up to speed and ready to add some ergonomic fuel to power your workplace productivity? Buro is here to help. We're proud to have had the backs of employers and workers in Australia and New Zealand for over 25 years, designing quality stylish ergonomic office chair ranges that kick your productivity into gear wherever you work.
Our quality office chair and back support chair seating combines intelligent ergonomics and internationally-awarded, human-centered design, for beautiful seating built for almost every purpose, space and body. Whether you're wondering how to make your office chair more ergonomic, or looking for the complete package, here are some great options:
The Konfurb Sense ergonomic desk chair brings ergonomics and sustainability into perfect balance. Proudly manufactured from 100% recycled plastic, the Konfurb Sense brings flexible dual lumbar support and responsive seating adjustments together with breathable mesh fabric and high-density foam seating, for a durable design that guarantees a 10-year warranty and improved longevity.
The Buro Mentor is another great ergonomic chair option, providing comparable support and longevity in a contemporary, ergonomic design. The Buro Mentor also features Dynamic Intelligence™ technology that supports optimal posture and organic movement by intuitively adjusting to a person's weight as they move.
Last but not least, the Buro Tidal is a premium ergo office chair, officially licensed Australian Made, that will have you feeling comfortable wherever you work. Featuring an independently adjustable seat and back tilt that's simple and intuitive to use, you'll never wonder how to adjust an office chair for ergonomics again.
At the end of the day, ergonomics is about much more than furniture. With the average person spending 90,000 hours at work over a lifetime, we all have the opportunity to maximise this experience and ensure it fulfills and rewards us. Through some simple changes to your work environment and daily habits, you can make your workspace work for you, increasing your productivity, mood and performance each and every day.
To find a chair that's right for you, visit our where to buy page and purchase through a stockist near you.